Shpesh këngëtarja Jessie J kritikohet nga ndjekësit e saj  rrjete sociale për pamjen apo për vendime të ndryshme që ajo merr.
Këtë herë ajo ka qenë në qendër të vëmendjes për shkak të një gabimi që ka në njërin prej tatuazheve të saj.
Në shkrimin që ka në këmbë fjala 'lose' është shkruar gabim duke i shtuar një "o". Fraza e plotë në tatuazh është 'Don't loose who you are in the blur of the stars"  që do të thotë: "Mos humb atë që je nën ndriçimin e yjeve".
Diçka e tillë u vu re për shkak të fotove të fundit në plazh të publikuara nga Jessie J në rrjete sociale ku pas kritikave të ndjekësve ka shkruar:  
"Po, tatuazhi është shqiptuar gabim. Po, po e përsëris tatuazhi është shkruar gabim. Po, isha 18 vjeç. Po, akoma nuk e di diferencën midis 'lose' dhe 'loose'.Po, e di që kam gjoks të vogël. Mos më thoni gjëra që gjasme unë nuk i shoh ditë për ditë", –u shpreh këngëtarja 31-vjeçare, e cila ka theksuar se nuk i interesojnë mendimet e njerëzve./Opinion.al/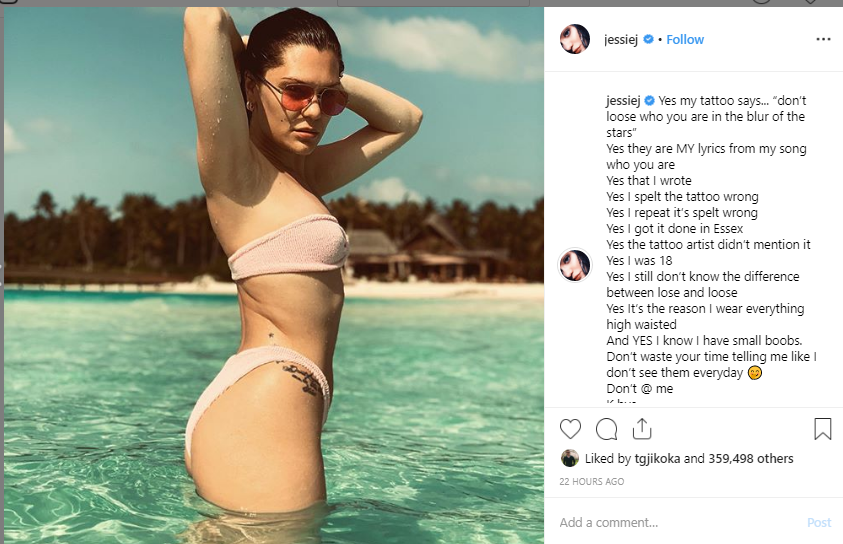 /Opinion/